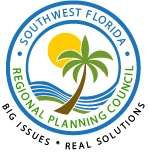 Southwest Florida Regional Planning Council Receives Federal Grant Award to Strengthen Local and Regional Markets for U.S Agriculture Products
Fort Myers, FL – (Friday, December 3, 2021) –
The Southwest Florida Regional Planning Council (SWFRPC) was selected for the 2021 USDA Agricultural Marketing Service (AMS) Regional Food System Partnership (RFSP) grant to implement the trademarked regional brand "SWFL Fresh: Choose Local, Choose Fresh." The trademarked regional brand will showcase SWFL food producers and their products. The Regional Planning Council will lead the three-year project in collaboration with University of Florida Institute of Food and Agricultural Services (UF/IFAS) Cooperative Extension Service and Tropical Research and Education Center (UF/TREC). The total project amount of $752,426 will support ongoing efforts within the regional food system.
"The SWFL Fresh brand is a producer led initiative and has farmers at the table with us developing the look, direction and opportunities of the brand," says Jessica Ryals, Agriculture & Sustainable Food Systems Agent for UF/IFAS Extension in Collier County.
The project partnership also includes the following organizations: Blue Zones Project Southwest Florida, Collier County Department of Health, Florida Gulf Coast University, Lee County Economic Development, Feeding Florida/Harry Chapin (along with other small/local food pantries and food banks), MEANS Database and Healthy Lee Coalition. "We are excited to continue our regional collaboration focusing on our food system," says Southwest Florida Regional Planning Council (SWFRPC) Project Director, Asmaa Odeh.
"This grant will allow us to enhance market opportunities for local growers while providing all consumers with better access to highly nutritious food," says Dr. Trent Blare, Assistant Professor in Food and Resource Economics at UF/TREC.
Blue Zones Project Southwest Florida will contribute $108,926 of the total project amount towards in-kind marketing services for SWFL Fresh: Choose Local, Choose Fresh. Blue Zones Project is a community-wide well-being improvement initiative designed to help make healthy choices easier for everyone in Southwest Florida.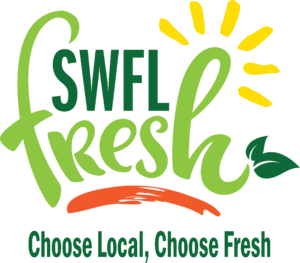 SWFL Fresh: Choose Local, Choose Fresh Trademarked Regional Brand
In 2017, following Hurricane Irma, the Southwest Florida Regional Planning Council (SWFRPC) and the University of Florida Institute of Food and Agricultural Sciences (UF/IFAS) worked with small to mid- sized growers in Southwest Florida (SWFL) to identify negative impacts on their production capacity and how to make them more resilient. An Agricultural Sustainability Study funded by the Department of Economic Opportunity (DEO) resulted in an analysis that identified numerous threats and opportunities these growers face. The research confirmed consumers, producers, and retailers all find value in marketing a "local" brand for agricultural products. The Federal Economic Development Administration (EDA) then funded the development of a SWFL brand: "SWFL Fresh: Choose Local, Choose Fresh."
The project will implement the trademarked regional brand to showcase SWFL food producers and their products through multiple marketing platforms. The brand will support the development of new markets for farmers, increase public knowledge of healthy, local food sources, and connect food producers to consumers. The marketing campaign will expand markets, increase farmer profitability, and promote the local economy in our six-county region while exposing consumers to higher quality and healthier food. This includes expanding access to farmers' markets, farm stands, community supported agriculture, and farm-to-school initiatives. By supporting the creation of markets for locally produced foods with government subsidies and the adoption of tools that encourage healthy food choices among socially disadvantaged populations, we will improve food security for low-income individuals